Accounting Software UAE: Simplify Your Financial Management
The success of any corporation depends on its ability to manage its finances in today's fast-paced commercial world effectively. In the United Arab Emirates (UAE), where the market is extremely competitive and continuously changing, this is especially true for enterprises. Many companies in the UAE, whether small and medium-sized, are using accounting software that helps to simplify financial management procedures. Businesses can stay organized, make educated decisions, and maximize their financial operations thanks to the comprehensive and user-friendly approach provided by your Financial Management. In this post, we will examine the advantages and features of accounting software in the UAE and how it can transform your financial management.
Table of Contents
Understanding the Basics of Software Accounting
Software accounting, in the broadest sense, refers to systems that help businesses streamline their financial processes. The advent of accounting software has revolutionized business operations worldwide, and the UAE is no exception.
In the UAE, software accounting has gained significant traction. Businesses rely heavily on these tools to manage their accounts, track revenues, VAT reporting, and oversee expenses. From preparing invoices to generating comprehensive financial reports, software accounting UAE has got it all covered.
The Changing Face of Accounting: From Manual to Digital
Traditionally, businesses managed their accounting processes manually. This labor-intensive task was prone to errors and inefficiencies, often leading to financial discrepancies. In the digital age, however, software accounting came to the rescue, automating complex accounting tasks and offering many benefits.
Features of Software Accounting UAE
Software accounting solutions in the UAE are rich in features designed to meet the diverse needs of businesses. These features include:
User-friendly Interface: Most accounting software solutions have an intuitive user interface, making them easy to use even for non-accounting professionals.
Customization: One of the standout features of software accounting UAE is its customization capability. Some accounting software can be modified for specific business requirements, whether it's for tax calculations, payroll management, or inventory tracking.
Real-time Financial Data: By providing real-time financial data, software accounting tools allow businesses to make informed decisions on the fly.
The Role of Software Accounting UAE in Business Growth
In the fast-paced business environment of the UAE, businesses need robust software accounting solutions to thrive. Let's look at how these solutions foster business growth.
Boosting Efficiency
Software accounting UAE can automate repetitive tasks, freeing up valuable time for staff to focus on strategic areas directly impacting business growth.
Improving Financial Accuracy
The risk of human error in manual accounting is high. On the other hand, accounting software minimizes this risk, ensuring accuracy in financial transactions and reporting.
Enabling Strategic Decision Making
With real-time access to financial data, businesses can make strategic decisions to drive growth. Software accounting tools in the UAE also offer predictive analytics, helping businesses forecast future trends and adjust their strategies accordingly.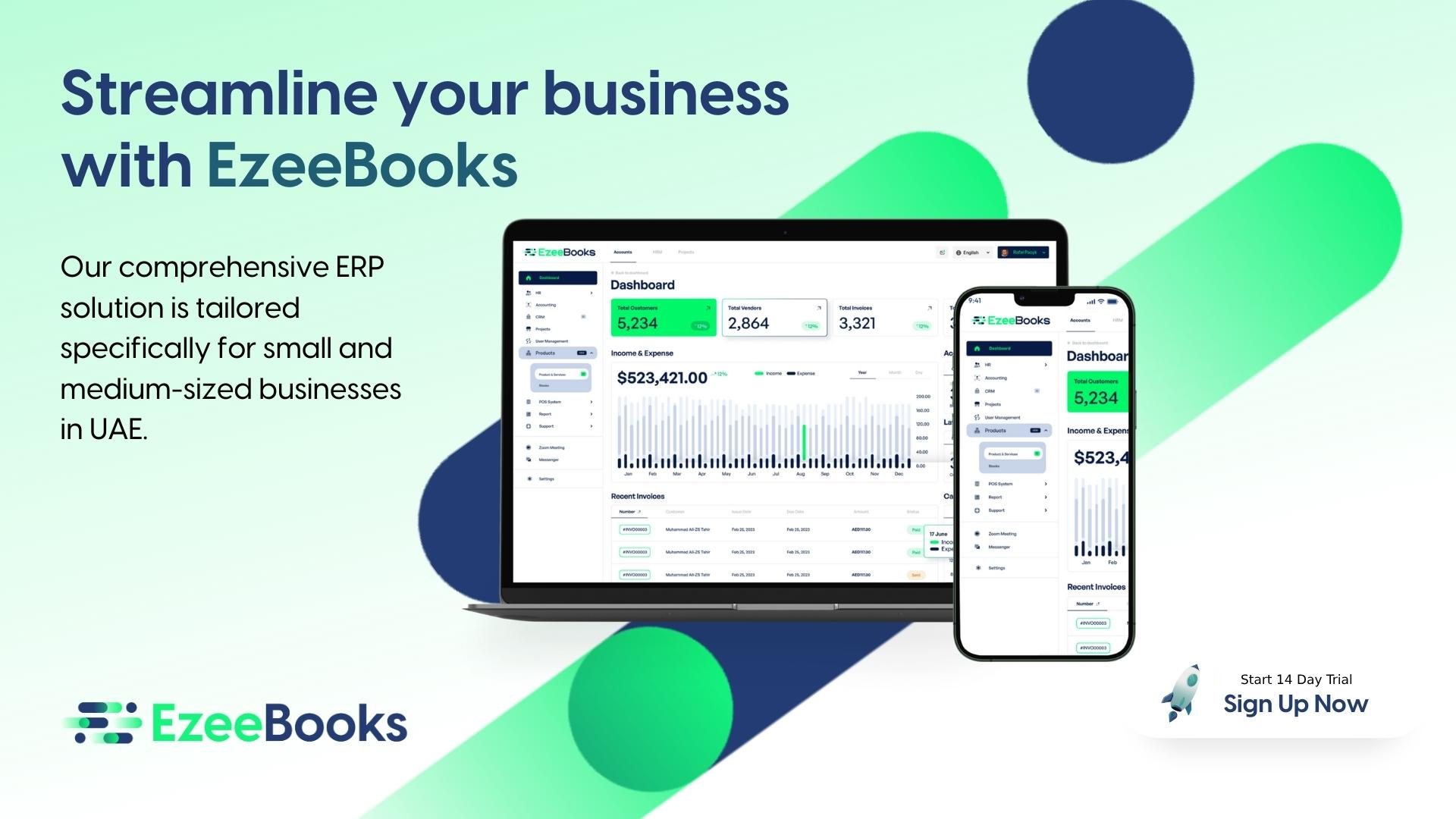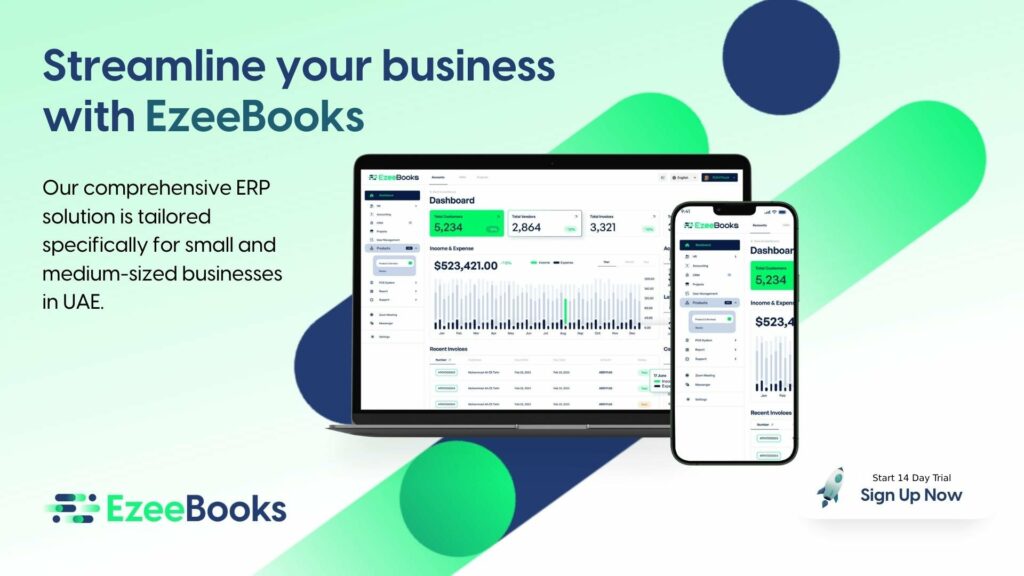 The Importance of Online Accounting Software UAE
Simplify accounting with UAE software: Your Financial Management is more than just a means of keeping track of money-related activities. Businesses may streamline operations and make data-driven decisions thanks to this platform's role as a central hub for integrating diverse financial processes.
Enhanced Financial Accuracy and Efficiency: With accounting software, businesses can automate time-consuming and repetitive operations like data entry, calculations, and financial reporting. By doing this, the possibility of human error is reduced, and the accuracy of financial data is raised. Additionally, firms may complete transactions more rapidly due to the software's effectiveness, which saves time and resources.
Real-Time Financial Insights: Business Accounting software users can easily access data about a company's financial position. It produces significant data and statistics that managers and business owners may utilize to make wise decisions. With access to current financial data, businesses can see trends, keep track of expenses, issue invoices, manage billing, and enhance their financial planning.
Compliance with UAE Tax Regulations: With numerous rules and reporting requirements, the UAE has a complicated tax system. Accounting software makes it easier to comply with tax laws by automating tax computations and producing precise tax returns. It guarantees that companies follow UAE tax laws, lowering the chance of receiving penalties and fines.
Improved Cash Flow Management: Any business must have effective cash flow management to survive. Tools for properly tracking and managing cash flow are provided by accounting software. It enables companies to monitor their accounts payable and receivable, set up payment reminders, and create cash flow forecasts. Businesses can prevent liquidity problems and make wise financial decisions by controlling cash flow properly.
Key Features of Accounting Software UAE
Let's explore some key features that make accounting systems a must-have need for businesses in the UAE:
Cloud-Based Accessibility: With cloud-based accounting software, you can view your financial information anywhere and anytime. You can store and access your financial information safely, ensuring that important information is always easy to find when needed.
Automated Bookkeeping: Online accounting software automates bookkeeping tasks like journal entries, general ledger upkeep, and bank reconciliation. It decreases the possibility of errors and eliminates the necessity for human data entry. Businesses may focus on other strategic tasks and save time.
Invoicing and Billing: Businesses can generate and deliver refined bills to clients or customers. It tracks payments, automates billing, and provides reminders for payments. This function enhances cash flow and guarantees prompt payment collection.
Expense Tracking: Tracking expenses manually can be time-consuming and prone to errors. Accounting software in Dubai simplifies expense tracking by allowing businesses to capture and categorize expenses digitally. It can integrate with bank accounts and credit cards and automatically help businesses import transactions for easy tracking.
Financial Reporting: Accounting software produces balance sheets, income statements, and cash flow statements in comprehensive financial reports. Making educated judgments is made easier by stakeholders because of these accounting reports insightful analyses of a company's financial performance.
Inventory Management: The accounting solution has functionality for inventory management for companies that deal with stock. Business owners can use it to manage stock movements, create reports, and monitor inventory levels. Stockouts and overstocking are avoided thanks to this feature, which enables inventory control to be optimized.
Corporate Tax Management: One crucial aspect of financial management for businesses in the UAE is corporate tax management. Accounting software simplifies the process of calculating and managing corporate taxes. It automates tax calculations based on the UAE's applicable tax rates and regulations. Businesses can generate accurate tax reports and ensure compliance with corporate tax requirements.
Payroll Management: Accounting software for your business often includes payroll management features, allowing businesses to process payroll efficiently. It calculates salaries, taxes, and deductions, generates payslips, and facilitates compliance with labor laws and regulations in the UAE.
Multilingual Support: In the UAE, where diversity is a hallmark, multilingual support is essential. Accounting management software that offers multilingual capabilities allows businesses to operate seamlessly in a multicultural environment, facilitating effective communication and collaboration.
Considerations When Choosing Accounting Software in the UAE
Scalability: Make sure the accounting program can handle the expansion of your company. It ought to be scalable to handle rising transaction volumes and expand commercial operations.
User-Friendly Interface: The software must contain an easy-to-use user interface that reduces the learning curve and makes navigating simple. Software that is easy to use increases user adoption and boosts overall productivity.
Integration Capabilities: Evaluate whether the accounting software can integrate with other business applications, such as CRM or inventory management systems. Seamless integration eliminates manual data transfers and ensures data consistency across different platforms.
Vendor Reputation and Support: Choose a reputable accounting software vendor known for providing reliable customer support. Vendor support is crucial for troubleshooting issues, receiving software updates, and staying up-to-date with regulatory changes.
Best Accounting Software in UAE
EzeeBooks, is an all-encompassing Enterprise Resource Planning (ERP) solution, painstakingly tailored to cater to the unique demands of UAE's small business landscape. From comprehensive financial management, inventory, and Customer Relationship Management (CRM), to Human Resources & Payrolls, Projects, Reporting, and Analytics, EzeeBooks' powerful accounting functions brings every facet of enterprise management under a single roof, effectively making it a powerhouse tool for your business. The seamless integration of these essential functionalities helps streamline operations, bolstering efficiency and enabling data-driven decision-making, the lifeblood of successful businesses in this digital age. Ezeebooks is the best choice as ERP software in UAE for small businesses.
In an increasingly competitive market, adaptability is key, and EzeeBooks cloud accounting software provides a dynamic, robust, and intelligent system that empowers your business to grow and evolve. But don't just take our word for it! Experience the transformative power of EzeeBooks first-hand with a special 14-day trial. And the best part? This revolutionary software comes at an incredibly affordable starting price of just AED 49 per month.
Opt for EzeeBooks and propel your business to new heights, where unparalleled efficiency meets affordability. Let EzeeBooks be your partner in success, driving growth and prosperity for your enterprise in the UAE and beyond. Sign up today and prepare to be amazed.
FAQs
What are the advantages of utilizing accounting software in the UAE?
Accounting software has a number of advantages, including increased financial accuracy and efficiency, real-time financial insights, compliance with UAE tax laws, and improved cash flow management. It supports firms in streamlining financial procedures, making wise choices, and maximizing their financial operations.
Can accounting software simplify tax compliance in the UAE?
Yes, accounting software makes it simpler to comply with tax laws in the UAE. It streamlines tax computations, produces precise tax reports, and makes sure companies follow UAE tax regulations. Employing accounting software helps organizations reduce their exposure to fines and penalties.
How does accounting software help with cash flow management?
Software for accounting offers tools for efficient cash flow management. It enables companies to keep an eye on their accounts payable and receivable, set up payment reminders, and create cash flow forecasts. Businesses can prevent liquidity problems and make wise financial decisions by controlling cash flow properly.
What key features should I look for in looking for the best accounting software for my UAE business?
Consider the following characteristics when choosing accounting software for your UAE-based company: automated bookkeeping, invoicing, and billing; expense tracking; financial reporting; inventory management; and payroll management. Your financial procedures can become more efficient and effective as a result of utilizing these characteristics.
Can accounting software be customized to meet my business's specific needs?
Yes, accounting software can often be customized to meet specific business requirements. Many software solutions offer customizable features, allowing businesses to tailor the software to their unique needs and workflows.
Is accounting software suitable for both small businesses and large enterprises?
Accounting software does indeed work for all sizes of firms. Accounting software offers useful tools to expedite financial administration, increase accuracy, and make data-driven decisions whether you are a tiny startup or a huge corporation.
Conclusion
For companies in the UAE, accounting software has completely changed the game. It provides a thorough and user-friendly method for handling funds, enabling companies to maintain organization, make wise choices, and improve their financial operations. Businesses can streamline their financial management procedures, improve accuracy, and stimulate growth by taking advantage of the capabilities and advantages of accounting software. Take charge of your financial destiny today by embracing accounting software.
Also Read:- Accounting Software for Small Business in UAE: Streamline Your Financial Operations